I am not Michelin, but a local cooking instructor.
I listed my best restaurant choices in Kyoto.
I have a couple of vegetarian restaurant recommendations as well.

I tried my best to keep the list not too long.
I wanted to list only the ones I can really recommend.
*I kindly & sincerely ask to be polite to the restaurant staff; some places are not English friendly.
*Please note that information could be outdated. I cannot not update information regularly. Before you visit these places, please check with your hotel staff or internet to be sure.

In Japan, food will be one of the highlights of your trip.
For fancy, expensive restaurants, you can always check the Michelin guide or the Iron Chef restaurants.
They really do serve amazing food.

However, those fancy restaurants are often expensive and they are a "few times a lifetime treat."
Then, "Where should you go to eat for the rest of 4 days you are in Kyoto?"

I have some recommendations.
The restraurants I recommend are ALL really good restaurants AND friendly to your wallet.

I will not rank restaurats in my list, as they are all wonderful restaurants with reasonable prices.

They may not be listed on famous English guidebooks.
However, I can recommend them you with all my heart. They are places where locals eat.

I try to give as much detail as possible. However, some of them might still be hard to find.
If you wish to have more details, please ask your hotel front for assistance.

-----------
(Please you can skip this part and go down to the list. Please read it when you have time.)
Some people ask me "what(dish/food) is Kyoto famous for?"
It is hard for me to answer this question.
My answer would be, "almost all Japanese food"

Kyoto has been the center of Japan for such a long time. Any Japanese food can be Kyoto's specialty.
Shoujin ryouri(vegan food for monks), kaiseki ryouri(fancy meals), tempura, unagi(eel teriyaki), okonomiyaki(pancakes), obanzai(home dishes), hamo(sea eel, seasonal), fugu(puffer fish, seasonal), soba(noodles), etc.
*However, Kyoto is famous for special ingredinets. There are many variations of local vegetables and tofu.
------
(You can skip this part also. I wanted to explain Kaiseki here, as I do not include them on the list.)
Kaiseki is high-end expensive food. For this, you can check Michelin guide for recomendations. I have nothing more to say.
Technically, there are two types of Kaiseki. Many people do not know about this.
懐石料理(kaiseki ryouri) and 会席料理(kaiseki ryouri)
*Different characters, same pronouciation.

懐石料理-
This kaiseki was originally a small meal before tea time. The characters mean, "pocket" and "stone."
Zen monks in the old days put a heated stone in futokoro(pocket) in the winter to avoid coldness and hunger.
So this first kaiseki is a light meal to prepare your stomach and body for a good tea.
*Light meal does not mean a lazy meal. Tea is fashion. Tea is important. The standards are set very high.
The host must pay full respect to the guests by serving the most seasonal, well presented food in a set format.
The most basic format is ichijuu-sansai(1 soup, 2 side dishes, 1 main dish).

会席料理-
This kaiseki means pretty much "drinking time dinner." So, this second kaiseki is for sake, not for tea.
This also ichijuu-sansai is the most basic format, but usually, more fancy(people eat more while drinking!).
Common fancy format:
1. sakizuke(apitizer)
2. wanmono(simple soup)
3. mukouzuke(usually sashimi)
4. hachizakana(grilled dish)
5. siizakana(simmered or fried)
6. tomezakana(Japanese salad, pickles)
7. shokuji(rice, soup and pickes)
8. mizugashi(dessert)

However, nowadays, there is no strict difference between the two.
A restraunt may offer 懐石 and another restaurant might be doing a very similar meal and call it 会席.
Personally, I think 懐石(tea meal) is more fashionable. It is more delicate and with more class.
会席(sake meal) is slightly more free-style. It is still delicate, but an enjoyable meal with sake. Less classy, maybe.
*This is all about preference. If you want to be sure you are having 懐石(tea meal), look for cha-kaiseki.(cha means tea)
------


Restaurants(fugu, Kobe beef, shabushabu, sushi, unagi, vegetarian, etc.):
*Northeast Kyoto, off-the-beaten-path info. for food lovers.

Fugu(Blowfish. Poisonous, but always cooked by licensed fugu chef. ):
玄品ふぐ(genpinfugu)- This is a small chain fugu restaurant. If you are just looking for a quick fugu experience, this place is recommended. No need to spend 10,000yen per person. If you just want to take a bite at fugu and leave, you only need to spend 2,000yen or so.
Price:
usually around 3,000 - 4,000yen per person
Hours:
4pm to 12am
Close:
Tuesday
Location:
Just 100m south of Yasaka shrine gate in Gion.
MAP


Beef(The best, if not, one of the best wagyu brands.):
みその(Misono)- Teppan-yaki restaurant.
Highly recommended if you are looking to eat Wagyu steak.
*For lunch, they have surprisingly cheap courses. They might be using imported meat or domestic beef, not wagyu.
Lunch time is good for purely experiencing teppanyaki, but not for a delicious piece of meat.
Price:
around 13,000yen for Kobe beef, if they have a stock(Other beef are cheaper)
Hours:
11:30am to 3pm for lunch
5pm to 10pm for dinner
Close:
Tuesday
Location:
On Kawaramachi street. Inbetween Shijo and Sanjo. MAP


One more video

しゃぶ禅(Shabuzen)- This is a shabushabu restaurant. They offer Kobe beef shabushabu for 10,000yen.
Hours:
4pm to 11pm
Close:
Everyday open
Location:
On Shijo street, a block east of Minamiza theater in Gion. On the south side of the street.
Map

Obanzai:
Hasegawa- Obanzai is Kyoto's home cooking meal. Wide variation of vegetables. However, not vegetarian food. In general, finding vegetarian food in Japan is quite difficult, as most us love to eat fish.
In this restaurant you can eat healthy Japanese home cooking food. The biggest drawback is that they are very much NOT English friendly.
Please also visit Haru Cooking Class -Kyoto- to learn about healthy Japanese home cooking!
Hours:
11:30am to 2:30pm for lunch(1,050yen)
5:30pm to 9pm for dinner(1,900yen)
Close:
Wednesday and Thursday
Location:
Few buildings east of Sanjo-sakaimachi intersection.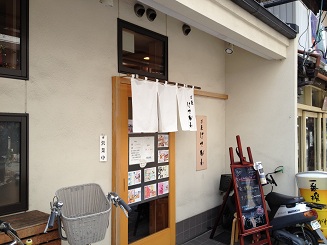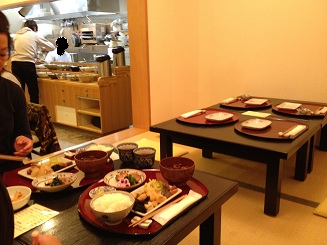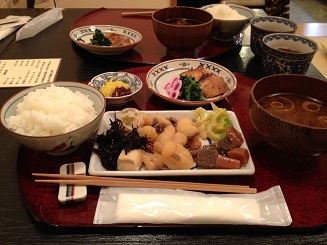 Ramen:

天下一品(Tenkaippin)- I don't know how many times I had ramen here. I am now too old for their thick soup. But it is still one of my top recommendations. They are now a chain and you can find them is many cities, but it all started in Kyoto. The original store is in very much north(I live fairly north in Kyoto and still another 15 minute bike ride) part of Kyoto.
However, you can find one in Gion.
The soup is very rich, it is almost like a chowder. The soup is tasty, but I reoommend not drinking it up. It's too heavy.

When you travel, you don`t spend 10,000yen for every meal.
Please also try where locals would go for an easy lunch.
.
Location: On Shijo street across the street from Minamiza theater.
Hours: 11:30am to 3am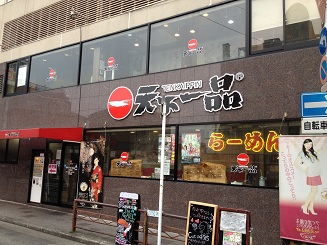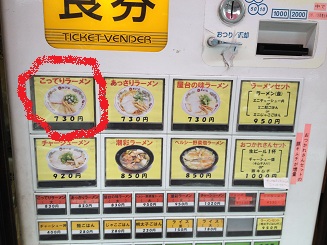 Ticket machine. Please choose the one I circled in red. This is my favorite.
The waiter/waitress might ask you something in Japanese.
They are saying, "how soft you want the noodles to be cooked and do you need garlic?"
My recommendation is "firmer noodles and no garlic"
In Japanese, you just need to say "Men katame. Nin-niku, nashi." pronounced as it is written.

長崎ちゃんぽんリンガーハット(Ringer Hut)- This is Nagasaki style ramen. Technically, it is called chanpon. It is strange that I recommend Nagasaki food here in Kyoto. However, this place is really for getting a decent amount of vegetables for a budget price.

Sometimes, travelers tell me that they cannot get enough vegetables for eating out in low budget price range. This I agree and disagree. We eat lots of seaweed in Japanese diet; also, in Japan, traditional cooking in does not offer fresh salad. Therefore, some may think that they are not taking in enough vegetables.because they are not eating a big bowl of fresh salad or do not consider seaweed as sea vegetables.

If you eat at Ringer Hut, they offer noodles with 250g of domestic vegetables as toppings.
This is a bargain. I love it here. Both of my parents are originally from Nagasaki, so I root for Nagasaki.
This is a chain restaurant, but I can recommend it highly enough for a quick healthy & filling meal.
*There is pork and fish cake used.

Price:
about 600yen per person
Hours:
11am to 4am
Close:
quite positive they are open 365 days a year
Location:
One block north of Shijo Kawaramachi intersection. It is at the south east of the intersection.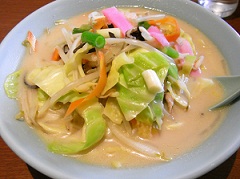 Click the photo for more information!


Shabushabu(Thinly sliced meat or fish, usually pork or beef, dip in hotpot and eat half cooked.):
十二段屋(Jyuni-danya)-They claim to be the origin of shabushabu.
Nobody knows for sure, but the restaurant is great.
If you are looking for good shabushabu, this is the place to go.
This place is right in the center of Gion, but no need to put on a suit.
Easy to go to and good service.
Price:
2,300yen for wagyu shabushabu for one person(80g of meat)
*course menu is around 10,000yen.
Hours:
11:30am to 2pm for lunch
5pm to 8:30pm for dinner
Close:
Thursday
Location:
Gion, Hanamikoji street, one block south of Shijo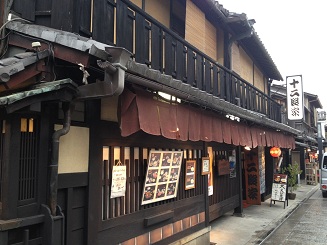 Easy to find, Jyuni-danya


Menu. Left one in the middle row is shabushabu-teishoku, 2,300yen.

牛禅(Gyu-zen)- If you are not satisfied with 50-80g of meat, head to Gyu-zen.
All you can eat shabushabu starts from around 2,000yen. Of course, 2,000yen course is not wagyu.
I recommend Gyu-zen to people who want to eat lots of meat and people who want to eat lots of vegetables.
They also do sukiyaki. You can even do both(same price). Amazing.
Hours:
5pm to 11pm
Closed:
open everyday
Location:
In Gion, near Yasaka shrine. MAP
*4th floor of Gion-kaikan building in Gion.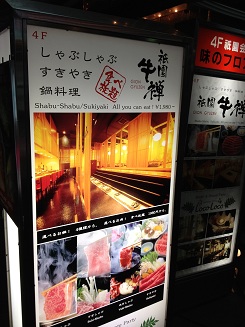 sign board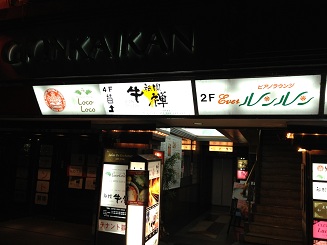 From a distance


Soba(Buckwheat noodles. Usually, buckwheat and wheat flour mixed and made into noodles):
大鶴(Daitsuru)- tasty and reasonable.
If you are in downtown Kyoto and looking for a soba restaurant, need not to try other places.
Price:
650yen to 1,300yen
Hours:
11am to 8pm
*closes at 6pm on Saturday
Close:
Sunday and National Holidays
Location:
Sanjo-Sakaimachi intersection. Less than 10 minutes walk from Kyoto City Hall.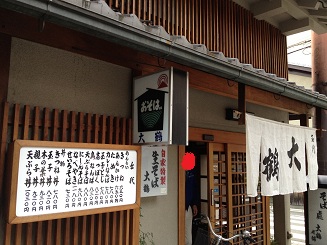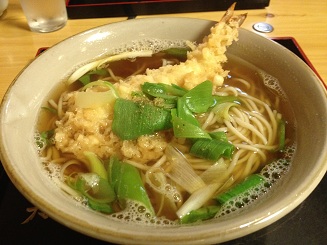 "Tempura soba"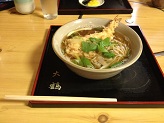 Very thoughtful. The tips of the chopsticks are not touching the tray.


Sushi:
Kyoto is more known for pickled fish sushi.
Hanaore is a famous restaurant(Near Shimogamo shrine).

Otherwise, for Tokyo style sushi:

金扇(Kinsen)- Not cheap, but reasonable enough for an authentic sushi restaurant.
Price:
about 5,000yen per person
Hours:
4pm to 10pm(sometimes 11pm)
Close:
Tuesday
Location:
Downtown Kyoto. A block and a half south of Sanjo-Teramachi. On the east side of Teramachi street.


Tempura(deepfried vegetables and seafood):
魚兼(Uokane)- Reasonable and wonderful quality..
Price:
Dinner is around 3,500yen
Lunch is less than 1,000yen
Hours:
11:30am to 2pm for lunch
6pm to 12pm for dinner
Close:
Monday and sometimes on Sunday
Location:
This place is in northeastern part of Kyoto. It is located a short walk from Ginkakuji
*a 3 min. walk north from Ginkakuji-michi bus stop.

Komefuku- Reasonable restaurant, a small chain.
This is a highly recommended place.
My new recommendation as of 2016.
Good tempura, good seafood, cheap beer.
On Fridays and Saturdays, there is usually a long line of people.
Price:
3,000yen or less with several beers
Location:
It is on Kiyamachi street, just one block south of Sanjo.

Unagi(eel):
かね正(Kanesho)- The best unagi restaurant in Kyoto. This place has been running since 1860's.
This place is super difficult to find and has no webpage. Not English friendly, but my favorite unagi restaurant in Kyoto.
(some unagi are too soft because they are steamed. Their unagi is nice and crispy.)
Please be very polite and humble to the storekeepers.
*When you order, ask for "una-don" for regular size(1,300yen)
"una-ju" for large size(2,300yen)

Price:
1,300yen to 2,300yen
Hours:
11:30am to 2pm for lunch
5:30pm to 10pm for dinner
Close:
Thursday and Sunday
Location:
West end of Gion. On Yamato-oji street.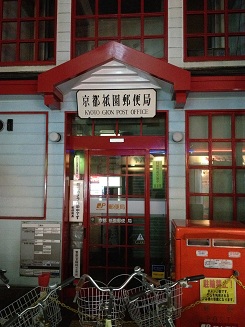 The post office right next to the small alley
that leads to the restaurant. This is the landmark.
This is on the west side of Yamato-oji street,
1 min. walk north of Shijo.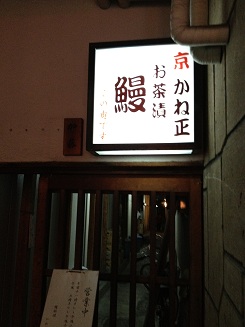 Sign board on Yamato-oji street.
Under the sign board is the entrance to the alley.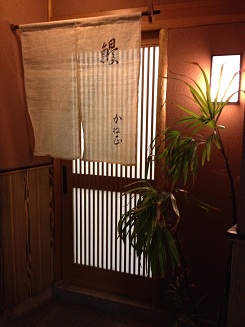 Front door




Vegetarian food:
Mumokuteki cafe- They are a very rare vegetarian and vegan friendly Japanese restaurant. They know a lot about macrobiotics and do very healthy and safe food for a reasonable price. My best recommendation for vegetarians.
Price:
around 1,000yen
Hours:
11:30pm - 10pm
Close: random

It is located on the west side of Teramachi street a couple of blocks north from Nishiki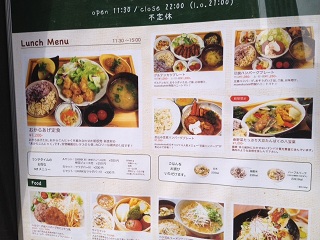 All are vegan friendly food


Yakitori/Bar(Yakitori is grilled chicken skewers.):
秋吉(Akiyoshi)- If you are in downtown area and looking for yakitori, come here and you make no mistakes.
Price is reasonable and food is great!!
Price:
around 3,000yen per person with few beer
Hours:
5pm to midnight
Close:
Tuesday
Location:
2 blocks south of Kawaramachi-Sanjo intersection. Then east for half a block. It is on the north side of the street.

鳥貴族(Torikizoku)- Food is nothing special, but beer is 300yen. It is a popular chain.
A chain restaurat may sound boring, but this is where many locals(in their 20's) would go.
It may be fun just to see where young Japanese people go to eat and drink.
So you can eat some yakitori, grab few beers and pay only 1,000 - 1,500yen. A good place to start a night.
Surprisingly, highly recommended.

Hours:
5pm to 5am
Close:
Almost never. They only close a couple of days a year.
Location:
This is a chain. A, B and C in this map are in downtown Kyoto.

Then, head to Kiyamachi street.

Kiyamachi street
Drinking street. Literally, thousands of little bars. To be honest, some are not tourist friendly.
However, if you don't like the one you chose, you can just hop next door.
There are just soooo many of them!!
*Some of them have a table charge, so try to find the ones with a "No Charge." sign.


Cafe:
上島珈琲(Ueshima Coffee)- No matter what country you are traveling, you will always take a break at a cafe.
In Kyoto, there are many Starbucks, Seattles Best and Tully's.
Ueshima Coffee is a Japanese chain cafe that my wife and I always go to. Let's take a break from a long walk at this cafe.
Price:
around 350yen for a coffee
Hours:
8am to 10pm
Close:
always open
Location:
Half a block south of Kawaramachi-Takoyakushi.
On Kawaramachi street on the east side, inbetween(pretty much in the middle) Shijo and Sanjo.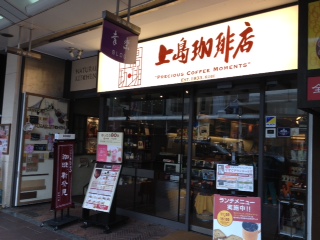 Big windows and easy to find

イノダコーヒー(Inoda Coffee)- This is slightly more expensive. It is a small chain, but still they serve true coffee and offer great service. My wife loves their french toast.
Price:
around 450yen for a coffee
Hours:
10am to 8pm
*The original store(on Sakaimachi inbetween Rokkaku and Sanjo) is open from 7pm
Close:
always open(some stores take a New Year holiday)
Location:
There are three in downtown Kyoto

三丘園(Sankyu-en of Ayano-koji)
A very nice little tea house 5 min. walk south west of Shijo station.
The cafe, formally a house, is over 100 years old.
Price:is around 1,500yen
Only open from 1pm to 5:30pm on weekend and national holidays
*Price and hours are subject to change

I highly recomend this as one of the things to do in Kyoto. Great authentic Kyoto experience. Maybe first time you go, you will be a bit nervous. However, the second time you are there, you will feel sooo relaxed:)

フロレスタ本輪菓(Floresta Honwaka)- A soy milk doughnut shop.
It is on Teramachi street, a bit north of Shijo.
They used to be only selling doughnuts on Kawaramachi street, but they opend this cafe.
My wife loves their doughnuts. This is a good example of a wonderful Japanese take on western sweets.
I am not crazy about sweets, but I love this place.
For people who want to have milder Japanese style doughnuts, this is a great place to go.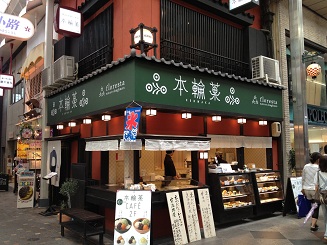 entrane. You oder here and then, go to the 2nd floor to eat.

ランチとコーヒーの店 かも(Kamo)- This is an old cafe in northern Kyoto. 1 minute west of Tadasunomori bus stop.
(you head west from Shimogamo-hondori Higashi-kuramaguchi intersection)

The owner is an old gentleman, he has been running the place for almost 40 years.
Some of the ingredients he uses are frozen food.
He also makes miso soup with dashi powder.

Maybe you lost interest in this cafe.

However, this place Kyoto in the 70's, as it is.
The city should preserve this cafe and make it a prefectural treasure.
Please, if you are nearby, stop by here and enjoy his nice little cooking and good old 70's music.
You will not regret it. At least, you will learn what was cool in Kyoto in the 70's.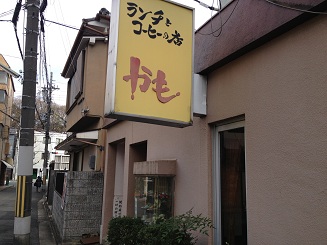 This is it!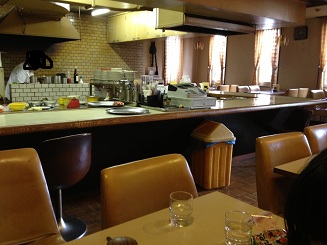 retro setting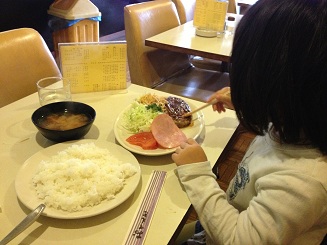 my daughter eating a set menu. All this for only 600yen or so.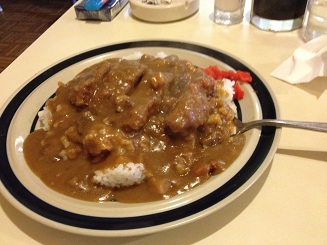 katsu curry. It's very good!! this also is like 600yen. Amazing.