Activities:
You have arrived to Kyoto. You have a list of shrines and temples to go to.
However, you got tired of temples and shrines and are looking to do other activities in Kyoto.
What are your options?

Tour/Workshop-
What to do on a rainy day? Any activities in Kyoto on a rainy day? Or activities on a sunny day?

Haru Cooking Class -Kyoto-
This is not just an ordinary cooking class. You will turn Japanese. You will be invited to a Japanese home and cook , chat and exchange cultures with a local family. Class duration is about 3 hours. I recommend this highly, because I run the cooking class!

Kyoto Cycling Tour Project
This is the best way to see the city if it is not raining. On a rainy day, you can buy "one day bus pass" for the city bus at the JR train station. It is only 500yen which is cheaper than hiring a bike. In Kyoto, the city bus is one of the best trasport system. The subway is mainly for people commuting to work or school with only two lines.
On a bike, stroll around the fairly flat city. My wife actually did the tour and she enjoyed it very much!


Maiko experience-
There are several studios in Kyoto where you can dress up as a maiko. Maiko is an apprentice geisha, traditional female performers during an expensive dinner. This is a bit "touristy" thing to do. However, many girls(including my older sister from came to visit me from Yokohama) want to do this, so I will leave no further comments.
*I cannot recommend one over another. If you search on the web "maiko makeup kyoto" you should find a few.
*To be very honest, I do hear that one of the most widely advertised maiko studios offers many options(with extra charges) and you must say "no thank you" quite a few times to keep those extra charges away.
*By the way, hiring a maiko or geisha for a dinner is around 70,000 to 100,000 yen for 90 minutes. So, if you dress up in maiko and serve your partner some sake, you can ask your partner for a charge(to make up for the dress up fee).


Tea ceremony-
Japanese green tea has become more popular worldwide in the last 10 years. Of course, bottled green tea and green tea tea bags are nice and handy. However, learning to make maccha green tea properly is quite an experience.
Maccha is powdered green tea. They do powder so they dissolve in warm water for additional sweetness and mildness.
In general, the lower the temperature of the hot water, tea is milder and sweeter.

Tea ceremony EN
They are in Gion(downtown of Kyoto) and does tea ceremony in English.


Arashiyama-


Hozu-river rafting
Exciting 2 hour rafting through a beautiful Hozu river that runs in the western Kyoto mountain range. It is good especially in the autumn and spring. Trees are beautiful to look at.

Iwatayama monkey park
Kyoto city zoo is good for Japanese people as it is an average zoo, with elepannt, giraff, llama, penguin, etc. However, for travelers, maybe it is not worth it to go here. The zoo is not uniqu to Japan. On the otherhand, Iwatayama monkey park is more unique to Japan. About 130 Japanese monkeys in the park. A good nature up in Arashiyama and a wonderful view from the top of the hill.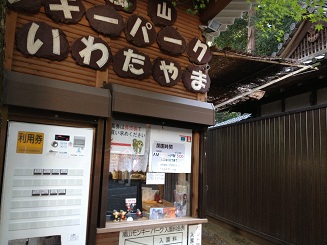 Entrance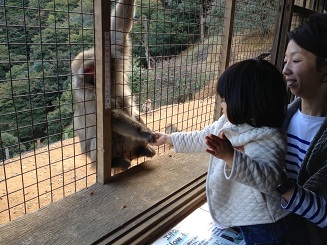 human child feeding a monkey child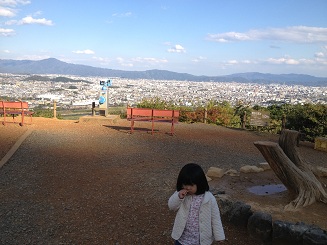 View of the city from the top of the mountain

Fushimi Inari-

Fushimi Inari is located a few train stops south of JR Kyoto. It is a shrine up on a hill.
There are many torii gates that are donated by prayers. Mainly business owners for better success in business.
The view is wonderul and it is a good 1-2 hours hike, up and back down the mountain.


If you are a family traveler with small children, please see Nishi-honguwanji in my sightseeing page :)