Stores:

One of the highlights of traveling is shopping.
Strolling around in downtown mainstreet or searching for small stores in the back alleys.
Both are fun.

There are many items that are unique to Japan:
Kimono- traditional Japanese clothing
Tamago pan- square omelet pan
Frixion pen- pen(ink) that erases
Omoshiro keshigomu- erasers that are shaped like food, animals, etc.
Seaweed- essential to Japanese cooking, good for lowering cholesterol
Knives- Japanese handmade knives are super sharp and long lasting
Potteries- Japanese potteries are creative and delicate design. Some antique ones are actually affordable.
Manga- Japanese comic books. It may sound odd, but comic books are popular even among grown ups.

Let's shop in Japan!!

Kimono, art etc.
Chicago(second hand clothing store)
If you are looking for second-hand clothing store in Kyoto, this is the place to go. It is on the west side of Teramachi street, just few blocks down from Sanjo. On the second floor, they have second hand traditional clothings such as kimono, haori, happy, juuban. Also, if you come to Japan in the winter and need warmer clothes, you can buy it cheap here and sell them before you leave Japan.

大書堂(Daishodo)
This is a small art store on Teramachi street, a block and a bit north of Nishiki street. So, this store is located a couple of blocks south of Chicago second hand clothing store.
Buying antique art is expensive, but this place does not rip you off. So if you are looking for traditional Japanese art, having a peak here is a good idea.

2 of my favorite tea stores in Kyoto
やまだしや(Yamadashiya)
Yamadashiya is on Nishiki food market. It is about midway through the market, on the north side.
You will smell roasty tea smell. You will find here without a problem. The only real tea store in Nishiki. The store keepers, tall skinny and skin-head man with glasses and a big older man, look a bit scary, but they are really nice people, so do not hesitate to buy tea from them. They always kindly give me extra 20g or so per purchase. By the way, tea will be perfectly packed and good for months.

一保堂(Ippodo)
This is more famous store. It is on Teramachi, but fairly up north, 3 blocks north of Oike. It is probably on many guidebooks, but no doubt that this is one of the best tea stores in Kyoto. The store is my wife's favorite. Iribancha(roasted tea) here is soooo flavorful. Very reasonably priced and good for everyday drinking. If you ask, you can taste different types of tea.

Kitchen items, etc.
ロフト(Loft) and 無印良品(Mujirushi) or also known as "Muji"
These are not as big as department stores, but fun places to see unique products.
They both sell random things. From cookwears to living room products to clothings to stationaries!! So much fun looking though these stores. They are both on Kawaramachi street, a few blocks south of Sanjo street. Loft is on the west side of the street(in Mina building). Muji on the east side of the street(in BAL building).
*Muji at Sanjo is now under renovation. There is Muji at Aeon mall, a 10 minute walk south of JR Kyoto staion.
*You can find the Frixion pen(by PILOT brand) in LOFT.
*You can find a aluminium tamago pan at Muji for around 1,500yen.

百貨店(Department stores):
There are many department stores in Kyoto.
Daimaru, Fujii Daimaru, Marui, Takashimaya, Isetan.
They are all on Shijo street(inbetween Karasuma and Kawaramachi) and fun to stroll around.
Warm in the winter and cool in the summer.
You might think it is a boring decision to visit department stores when you are traveling, but these are the places where locals go.
Please enjoy finding interesting things in Japanese department stores!
*For families with babies, it is easy to find large restrooms where you can find places to change diapers.
*You can find a professional copper tamago pan(Kiya brand) in Takashimaya for about 7,000yen.

有次(Aritsugu):
A famous knife store in Nishiki food market. They have been running the place for about 400 years. A hand made steel santoku knife(all purpose kitchen knife) is around 13,000yen at Aritsugu. The staff are super kind, easy to shop. Some staff speak English and they will engrave your name onto the knife and sharpen it before handing it to you. Having a whole set of Aritsugu knives is a dream for many chef. Even people don't cook know about Aritsugu.
*Aritsugu in Tsukiji, Tokyo is a different store from Kyoto Aritsugu. Tsukiji Aritsugu broke up with the original Kyoto Aritsugu, well over 100 years ago.
*Best knife stores in Japan are said to be "West Japan, Aritsugu. East Japan, Masamoto."

重春(Shigeharu):
A famous knife store in on Horikawa street, south of Oike street. Southeast of Nijo castle. They have been running the place for about 1,000 years. Price is about same as Aritsugu. The shop owner is a very nice old man. He speaks a little bit of English and he also engraves your name onto the knife. Not as famous as Aritsugu, but there are many fans of this knife store.

HOW TO CHOOSE A KNIFE THAT SUITS YOUR COOKING?

Pottery and antique
AntiqueCOM:
My favorite place to go when looking for antique potteries. Some are expensive, but some are really affordable. When I find items like 150 year-old worn out plates for 1,000 yen each, it is hard to resist from buying them. I am not sure if they are in English guidebooks. The location: on Takakura street, half a block north of Sanjo street. On the east of the Museum of Kyoto.

Others
Book Off
This is a big second handed book store chain. You are less likely to find English books. However, if you can read Japanese or looking for an Art/Design book(that needs no words) this is the place to go. If you like Japanese music or movies, you can find used CDs and DVDs here also.
Location: Sanjo-Kawabata intersection. In Keihan Sanjo station building.

ダイソー(Daiso):
100yen store. You can find many things here. Snacks, kitchen items, pen, erasers, chopsticks, dishes, gloves, underwear, you name it, they have it. However, the products are not always long lasting. There is one on the second floor of of Kyoto Tower building. There is even a bigger one in Aeon mall on the south side of JR Kyoto train station. There are also many 100yen stores(not neccessarily Daiso) in Kyoto. If you walk down Kawaramachi or Teramachi, you will find a few. Look for the "100yen" signs!
Information on 100yen stores

イオンモール、ダイハナ(Aeon shopping mall Diamond City Hana)
This is a big shopping mall in the outskirts of Kyoto.
Sometimes, travelers ask me "where do the locals go for shopping?"
Of course, we shop in downtown too. However, downtown is mixture of stores for locals and tourists.
This Aeon mall Diamond City Hana(We call it Dai-hana) is for locals.
You find no rip-offs. However, nothing fancy.
This is a type of shopping mall I go with my wife and daughter on a Sunday afternoon.
Please enjoy your very Japanese afternoon:)


This is the nearest major bus stop. Bus 205 ect.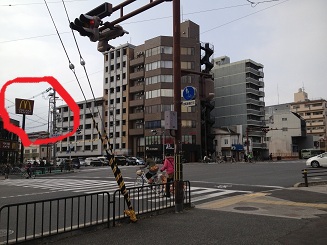 Right at Nishioji Gojo bus stop, there is a big intersection.
Southwest of the intersection, there is a fancy restaurant
called McDonald's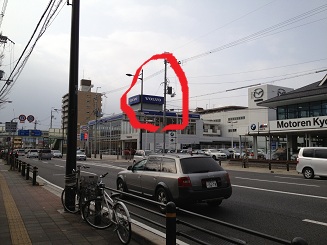 The intersection, you head west, meaning, you must pass
McDonald's no matter how irresistable it is.
You will see this Volvo store.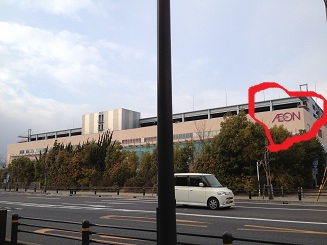 Three minutes after you pass Volvo, you will see this.
This is your destination.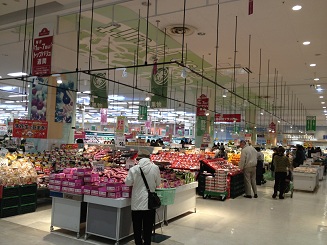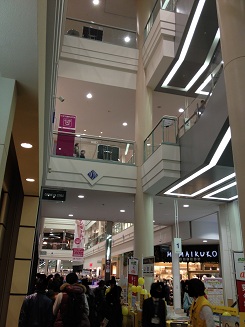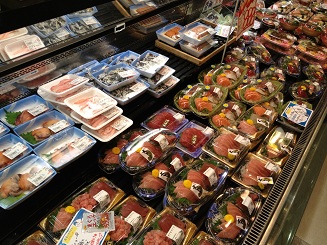 Yum!! Find out the living cost of Japan!! Quite reasonable:)



We entered this restaurant.
Shabushabu, sukiyaki all you can eat.2,000yen per person.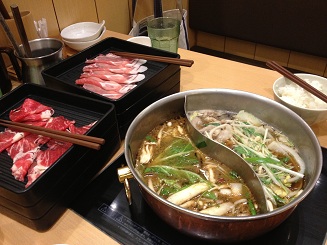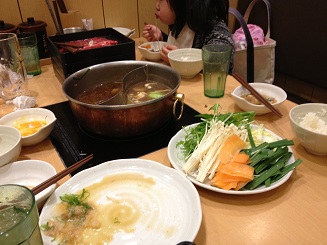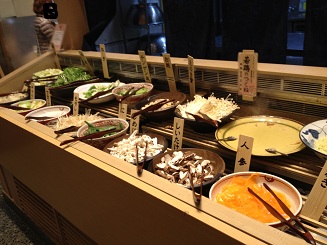 All the vegetables, buffet style.

Quality of meat is not high.
But, nothing I would complain considering there price.

I eat out when I am too lazy to cook.
Here, you can eat lots of vegetables, all you can eat. This is the best part.