Northern Kyoto(Shimogamo & Demachiyanagi area):

Why did I creat a page just for this untouristy part of Kyoto?
Beacuase I like this part of town very much.
It is one of the most peaceful areas of the city and it has lots of great sceneries and restaurants.

Nothing is mentioned about Shimogamo and Demachi areas in guidebooks.
If nobody writes about us, of course, nobody comes. Let me write about these places.

I will explain the northern Kyoto area, so you can come to this area without any fear.
Seeing the inside of Kyoto is just as informative as visiting major sites.

Now, please accept my apologies that I cannot update information often.
Please check with each restaurant/stores/etc. for the latest fee/opening hours before paying them a visit.

Shimogamo shrine:
First of all, if you come to Kyoto, you must visit Shimogamo shrine.
This is the GOD SHRINE, the GUARDIAN of Kyoto.
Old writing says, in the year 698, "There will be many people gathered for Aoi festival. Therefor, the security must be good." This means, that the shrine was already famous 1,300 years ago.
The shrine, along with it's Tadasuno forest is considered to be one of the most spiritual areas in Kyoto.
Peaceful and calm. Yet, at night, spooky.
There is something about this shrine...


Masugata Shotengai(market):
Also known as Demachi market, located right outside of Aoibashi-nishizume bus stop(slightly north east of the Imperial Palace).
A small size market for the locals. Not touristy at all, but a good place to purchase food, etc.
There are two 100 yen stores, a kitchen item store, etc.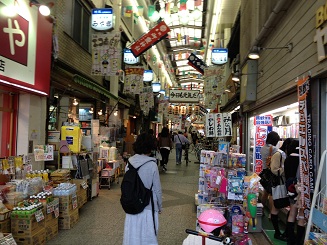 ‡@Entrance of the market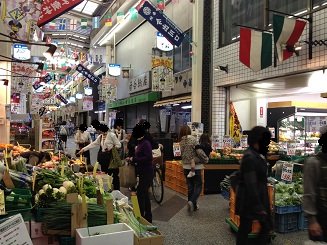 ‡A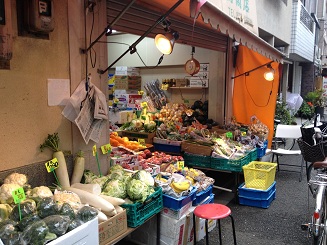 ‡BMy favorite vegetable store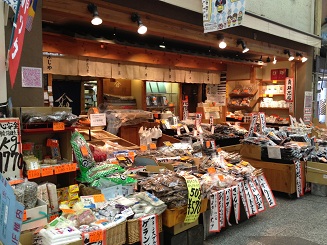 ‡CMy favorite kambutsu(dried product) store
Highly recommended for shopping, dried sea veggies, fish and beans.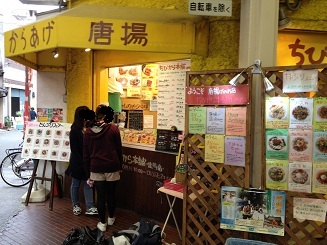 ‡DKaraage store(yummy)
(NOW CLOSED)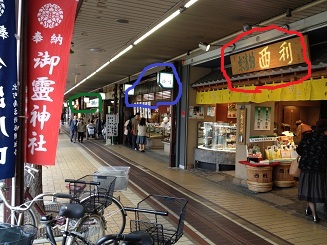 ‡E
Green- Butcher(tasty beef korokke for 50yen)
Blue- mochi store(very very famous for mame-mochi, 160yen)
Red- pickle store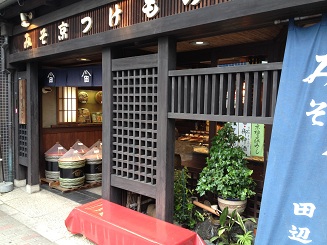 ‡FMiso store(in front of Aoibashi-nishizume bus stop)
(NOW, they look a bit different. They now specialize in selling pickles)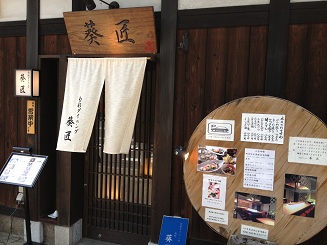 ‡MNext to this miso store is their restaurant, Aoi-sho. Using mainly their miso and pickles.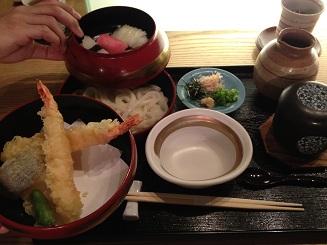 Tempura Udon gozen at Aoi-sho

‡GCLOSED(now new building)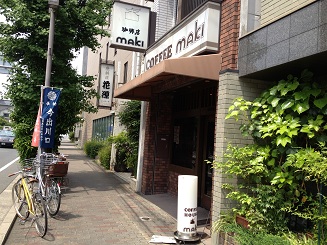 ‡HCafe Maki, across the street, if you wish to take a break from a long walk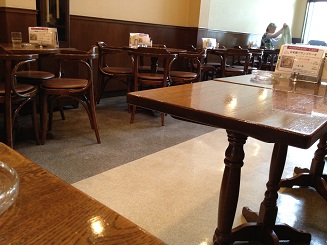 Inside Maki- After you enter, you can find a seat and sit.
The waiter will come to you; you pay with you leave.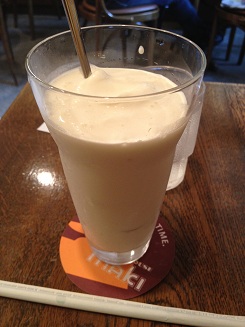 My favorite "yogurt shake" 550yen and well worth it.
It's like frozen yogurt, but more creamy and juicy.
It takes a while(5min. to 10 min.)for them to make it.


Chinese food
En-en:
Maybe you might think it is funny to eat Chinese food in Kyoto.
However, Kyoto is famous for good Chinese food. At least, by Kyoto locals.
So please do not be shy to try it for a change.
This is my wife's one of her favorite Chinese restaurants in Kyoto.
A three minute walk west of Kawaramachi Imadegawa intersection.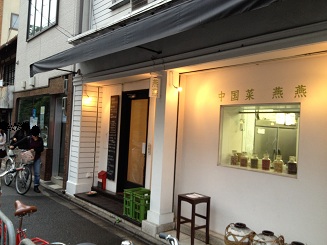 ‡IEn-en entrance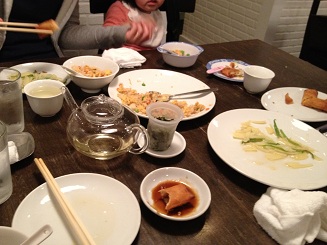 We are full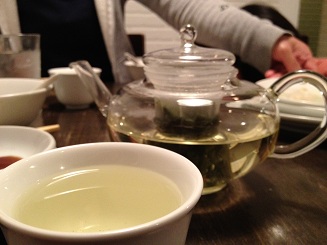 Chinese tea is around 500yen per tea pot. Free refills of hot water.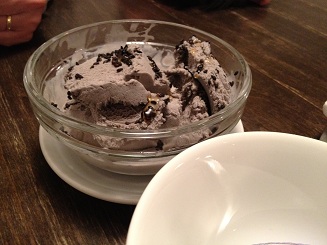 Black sesame ice cream for dessert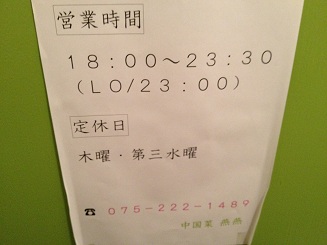 Closed on Thursday and the third Wed. of the month

Daitoryu(was under renovation, but REOPENED in the summer of 2014!!! The entrance looks different from the photo):
Another Chinese restaurant.
Yes, I like Chinese food very much.
This place is more Japanese Chinese.
I like this restaurant very much.
(The store is not clean, but please forgive them; they have been running the place for 30-40 years.)
Not anymore!! They are brand new now and looking great!
Their fried rice and springrolls are amazing.
They are open until very late.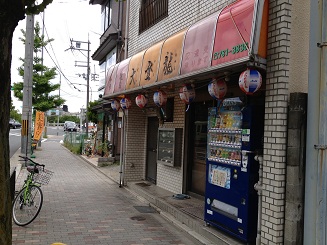 ‡JThe entrance of Daitoryu(now, it has changed and very new looking)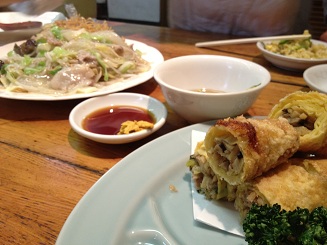 They make the wraps of springrolls as well

Katsudon
Yabusoba:
‡KCLOSED(Store owner got too old and could no longer run the place)

Tempura
Saikaku- My favorite tempura restaurant.
Dinner is 5,500yen/7,000yen courses, or non-course menus. (5pm to 9pm)
Lunch is around 1500yen. (12pm to 1:30pm)
*Tendon(rice with tempura on top) is 1,300yen. Tempura teishoku(tempura set) and Otsukuri teishoku(sashimi set) are 1,900yen each.
Closed on Monday and the third tuesday of the month.
(Lunch is only available on Tuesday)
Note: If you are going ot just one tempura restaurant in Kyoto, I highly recommend here.
They stick to the fundamentals and the seasonal ingredients are very well chosen. No false.
You are not paying for anything extra. True value.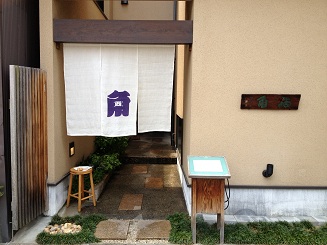 ‡NEntrance of Saikaku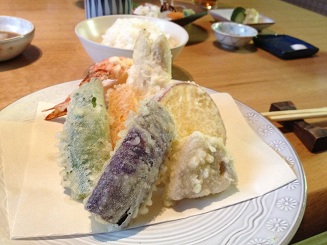 Tempura at Saikaku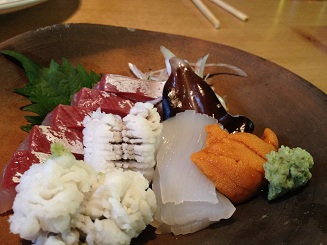 Sashimi at Saikaku

Soba
Inakatei- A nice local udon, soba restaurant similar to Yabusoba above.
Seasoning is a bit sweeter here in comparison to Yabusoba. Also, they have more
variations. All in all, a bit younger than Yabusoba. Price is a slightly bit higher here.
Closed: Thursday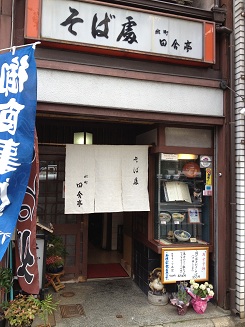 ‡PThe entrance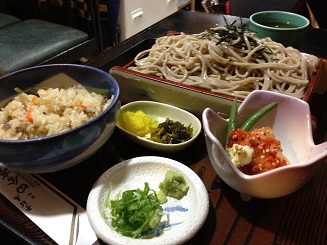 Soba set menu cames with rice and sidedish

Green tea store
Shimizu-shoeido
Good variations of green tea including sweet matcha:)
They also sell many tea pots.


‡QShimizu-shoeido

Home depot store
KEIYO D2- This is ‡R on the map. Home depot store may sound very random.
However, sometimes I recommend my guests to go shopping here, when I get requests like,
"where can I buy tabi shoes(jika-tabi, or ninja shoes)?"
"where can I buy a takoyaki pan?"


Picnic spot:
Shimogamo delta / Demachi delta:
Popular picnic spot for the locals of northern Kyoto.
If it is a sunny day, I highly recommend for a nice relaxing afternoon break.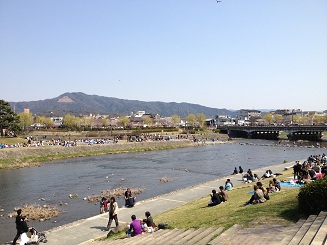 ‡OShimogamo delta / Demachi delta



Sincere apologies for the ugly map.
I did my best, but my wife says I should do something about it.
On the big intersection, McDonald's do not exist anymore.