---


Things to do in Kyoto, Japan

Kyoto is an amazing city, full of history and culture.
The city was the nation's capital for about 1,000 years since the late 8th century.
Even now, 140 years after the national capital was moved to Tokyo in 1869,
Kyoto still remains to be one of the most culturally influential cities in Japan.

Now, what are the "things to do in Kyoto."
When you are in Kyoto, you want to carefully choose which sightseeing spots to go and where to skip.
You are most likely to skip some 1,990 temples/shrines, unless you have few years to spend in Kyoto.



When I travel, I DO NOT want to visit solely the places that are listed in famous guidebooks.
However, I also know that there are places where I should not miss out, even if they are in guidebooks.

So, what are the best things to do in Kyoto?




The whole purpose of creating this webpage is to introduce Kyoto from an insider.

My wife and I will try our best to show you all the best options of "things to do in Kyoto," INSIDE OUT.

Best wishes to your travels!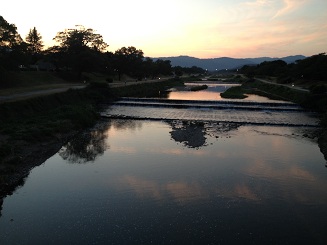 view from Shin-aoibashi bridge


Things to do in Kyoto with kids
(kimono shopping, picnic, workshop, etc.)
*This particular column is especially good if you are traveling with kids.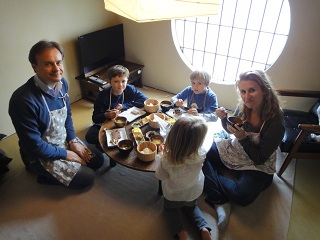 Haru Cooking Class -Kyoto-
This is a small cooking class that my family runs.
I am sorry for advertising this now! Haha!
But it's not so bad, so please check it out!!

Nishi-hongwanji
One of the nicest temples you can visit around JR Kyoto station area. It is the headquarters of one of the Jodo-shinshu branches of Buddism. You can enter for free and the inside the temple is amazingly BIG. Definitely, one of the best things to do in Kyoto, if you are with kids!

The first room you will step into is a huge room with few hundred tatami mats. When my daughter was 1 year old, we would come here and let her crawl around and run around because there are very few people in the temple(more people in the high season!).

Chicago(second hand clothing store with kimono)
If you are looking for second-hand clothing in Kyoto, this is the place to go. It is on the west side of Teramachi street, just few blocks down from Sanjo. If you came to Kyoto in the winter without a thick jacket, no need to spend lots of money on new clothes. Also, on the 2nd floor, they have second hand kimono, happi, haori, etc.
*This also, definitely, one of the best things to do in Kyoto if you want to buy Kimono!

Shimogamo delta
This is not officially a "delta," but we all call it Shimogamo delta. It is where the Kamo river is forked, located a 30 second walk west of Demachiyanagi station. Also known as Demachi delta. It is popular relaxing spot among the locals who live in northern part of Kyoto.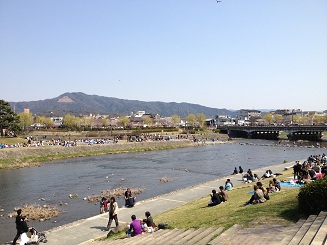 Shimogamo delta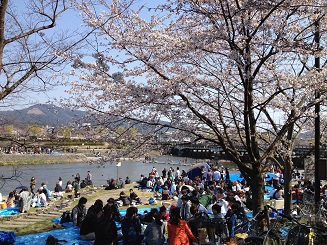 Same place in Sakura season

There are several Universities around here. In the evening, you can see students practicing their trumpet, juggling and dancing. Very peaceful. From the riverside, you can also have a great view of the Daimonji mountain(which lights up for the Obon festival in Aug.).

Demachi shotengai(or Masugata Shotengai)
There is a local market 2 min. walk west of this delta, called Demachi shotengai(official name is Masugata Shotengai, but nobody knows). Here, you can find Kyoto's well known dessert called mame-mochi (at Futaba, 160yen) and yummy Japanese style fast food called korokke (at Okada- shokai, 50yen).
*Price is subject to change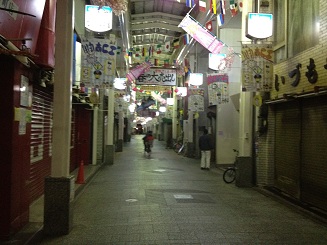 I took this photo at night. Daytime is more lively.

Shimogamo shrine
I am not sure if Shimogamo shrine is even listed in English guidebooks.
I do not see many foreign travelers here.
This is the GOD SHRINE of Kyoto.
The protector, the guardian shrine of Kyoto.
more info on Shimogamo
*My family go here in the early summer to see fireflies.
Also, on a hot day, the cannal is nice and cool and refreshing:)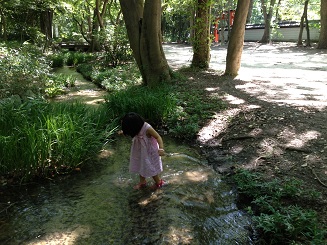 Imperial Palace
This is a well known place. But many do not know that this place is more like a park than a palace. I recommend family travelers to come here for a picnic on a nice sunny day! That is what we do!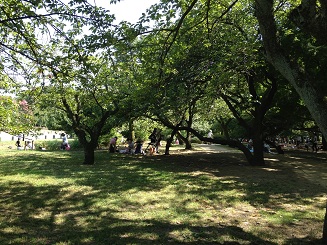 Anywhere, you can do picnic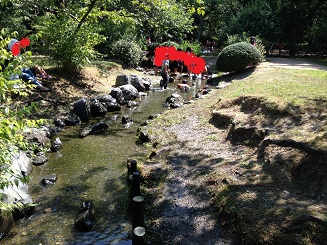 Even in mid summer, it is not too hot here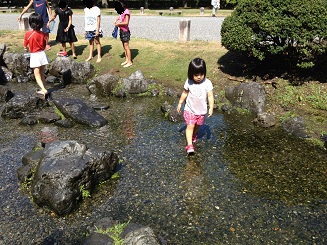 map of Imperial Palace


Sarasa(of Kayuu-koji)
This is a nice small restaurant/cafe near Shin Kyogoku shopping street in the back alley. if you are coming from Shijo Shin Kyogoku, turn east on the first alley, head straight for 50m and it is on the south side next to an instrument store.
Cozy atmosphere with good wooden interior.
I really like the atmosphere and food here, healthy, modern Japanese(meaning, not authentic but fusion) style food.
Price:is around 1,000yen and big portions by Japanese standards

Sankyu-en(of Ayano-koji)
A very nice little tea house 5 min. walk south west of Shijo station.
The cafe, formally a house, is over 100 years old.
Price:is around 1,500yen
Only open from 1pm to 5:30pm on weekend and national holidays
*Price and hours are subject to change

I highly recomend this as one of the things to do in Kyoto. Great authentic Kyoto experience. Maybe first time you go, you will be a bit nervous. However, the second time you are there, you will feel sooo relaxed:)

Department stores
There are many department stores in Kyoto.
Daimaru, Fujii Daimaru, Marui, Takashimaya, Isetan.
They are all fun to stroll around.
Warm in the winter and cool in the summer.

You might think it is a boring decision to visit department stores when you are traveling, but these are the places where locals go.

Please enjoy finding interesting things in Japanese department stores!
*For families with babies, it is easy to find large restrooms where you can find places to change diapers.

Also, if you go to food floors at around 7pm, you can find tasty bento boxes(good for dinner or lunch) for discounted prices!!

Loft and Mujirushi(or Muji)
These are not as big as department stores, but fun places to see unique products. They both sell random things. From cookwears to living room products to clothings to stationaries!! So muc fun looking through these stores.

They are both on Kawaramachi street, a few blocks south of Sanjo street. Loft is on the west side of the street(in Mina building). Muji on the east side of the street(in BAL building).

You can learn about modern Japanese lifestyle, by only walking around in them! Definitely on my "things to do in Kyoto" list!

More activities, restaurants, etc.