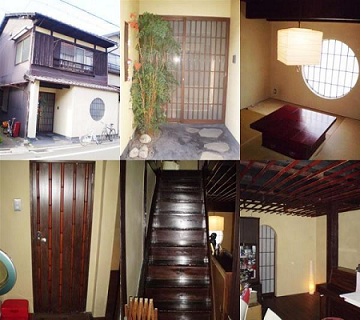 Hello from Kyoto:

I am Taro. My wife and I run a small cooking class at home since 2010.
My family members are, Taro(me), Yoshiko(my wife), Haruko(older daughter born in 2009)
and Kyoko(younger daughter born in 2014).
I cannot thank them enough for being a good support to me.
Please accept my sincere apologies in advance for any inconvenience/disturbance caused in class.

Please also accpet my sincere apologies that some of the preparation is done beforehand.
My biggest aim is to teach the basic knowlege of Japanese cooking so my guests could continue
to cook Japanese food after going back home.
In the class, I spend a fair amount of time explaining the ingredients and answering questions.
The class may not be as hands-on as some would like it to be.

However, I do my best so the class is a fun activity, not just a study group.
If you are looking for something to do in Kyoto, please come join!!
I look very forward to meeting you!




Reservation: -

Click here
-----------------------------------------------------------------------

Class types at Haru Cooking Class:
1. Japanese vegetarian cooking class

(menu: four to five vegetarian dishes)

-Fee: 5,900 yen / person
-Duration is 3-4 hours(cooking and eating)
*6 guests per class.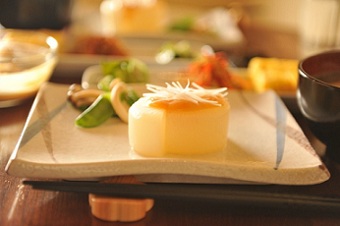 Furofuki-daikon(photo by Nalin)
*Daikon radish simmered in kombu-dashi and sweet miso sauce on top.
What you can learn in this class:
You will learn the essentials of the Japanese cooking.
With an exception of fish flakes used in the soup stock, everything else is vegetarian friendly.
*If you are a strict vegetarian, please let us know in advance.
2. Japanese non-vegetarian cooking class(with Kobe beef)

(menu: three to four dishes+ small size certified Kobe beef steak)

-Fee: 7,900 yen / person
-Fee: 10,900 yen / person (double size certified Kobe beef)
-Duration is 3-4 hours(cooking and eating)
*6 guests per class.
-Kobe beef dinner(larger steak than Haru Cooking Class) is usually around 12,000yen-15,000yen at restaurants.
*What is KOBE BEEF? click HERE 1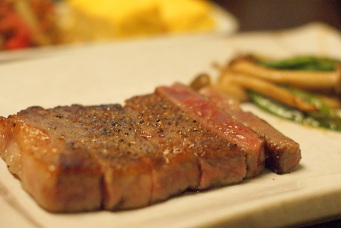 Kobe beef(Mar. 22nd 2012, photo by Taro)

What you can learn in this class:

You will learn the essentials of the Japanese cooking.

We will make several side dishes, with the ingredients & cooking methods carefully explained.

This class, comes with a certified Kobe beef.

Please come take the class to learn about Kobe beef!

*Japanese farmers have high pride in taking great care of the animals(not mass produced).



3. Nishiki food market trip
(Available once a week. Schedule is decided by the first group to make a reservation that week.)

-Fee: additional 4,000 yen / person to the cooking fee above
-Duration is 60-90min. (12pm start. Then, cooking class follows.)
-Minimum of 2 guests, maximum of 6 guests per day.

What you can learn in this class:
We will visit Nishiki food market, the kitchen of Kyoto. We will walk around the market and learn about Japanese ingredients. After that, we will head to my house for a cooking class. Photos and blog by Cynthia



-----------------------------------------------------


Time:
-Cooking class starts at 2pm
-duration is 3.5 - 4 hours
*Nishiki food market trip is available only once a week and starts at 12pm and duration is 1 - 1.5 hours.
To check our availability, pease send us a reservation request.



Reservation: -

Click here


-----------------------------------------------------
Access / Location of Haru Cooking Class:

-North east of the Imperial Palace Click here


*Easy access by bus from both downtown Kyoto and JR Kyoto station.





-Menus are seasonal and are subject to change.
-We organize it so it will be a complete meal(1 soup dish, 2-3 side dishes and a main dish).
-Duration is approx. 3-4 hours, depending on the number of guests.
-One class a day(We also try to keep it to 1 class type per class to finish everything in time.)

-------------------------------------------------------------------

Dear guests,

Hello, I am Taro the owner of Haru Cooking Class -Kyoto-.

You can learn a lot about Japanese culture by learning about Japanese food.

Food plays a big role in our culture.

In Haru Cooking Class -Kyoto-, you will cook Japanese home dishes.

I cannot teach fancy dishes as I am not a professional chef.

However, I do my best to show and explain what Japanese people eat normally.

I thank everybody who come all the way to Japan.

I wish for my guests to finish the class with a deeper understanding of Japan and Japanese people,

not only Japanese food.

If you have not yet decided what to do in Kyoto, please choose Haru Cooking Class.

Please do not hesitate to join the class if you are a beginner cook;

"I just wanted to enter a Japanese home"

"I just wanted to eat Kobe beef"

"I just wanted to eat good vegetarian food"

"I just wanted to meet Haruko"

Any reason is ok, as long as it leads you to the new experience of a fun Japanese cooking!

I look very forward to meeting you!

If you have time before the cooking class,

here are some of the things to do around my neighborhood!

Best regards,

Taro Saeki